By Jonathan McQuarrie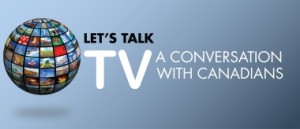 Following their "Let's Talk TV/Parlons télé" initiative, the Canadian Radio, Television, and Telecommunications Commission (CRTC) is compelling TV providers to alter how they provide content to Canadians. In March 2016, Canadian TV watchers will have the option to select smaller bundles or individual (or a la carte) channels, which viewers will be able to do by December 2016, although they will still have to pay $25 for a "skinny basic" package of channels, including CBC, CTV, and Global. These changes have been widely welcomed for offering reduced prices and providing an opportunity for people to reduce their cable bills.
Despite the potential savings, some in the media industryhave raised multiple red flags. The Canadaland podcast presented the opinion of an unnamed industry representative who contended that television industry has become even more conservative in their willingness to fund Canadian content, as they anticipate lower subscription rates and revenues. (Intriguingly, the anonymous representative notes that CBC is an exception to this, likely as they became more optimistic with the change in government). Jesse Brown, the Canadaland host, also references wide sentiment that the upcoming changes to CRTC regulations will lead to the end of a number of niche channels.
Further, a Nordicity report commissioned by the Alliance of Canadian Cinema, Television, and Radio Artists (ACTRA), Canadian Media Guild, Directors Guild of Canada, Friends of Canadian Broadcasting, and UNIFOR painted a grim picture of the ramifications of the CRTC changes. The anticipated loss of revenue from the new system, the report warns, will lead to a $970 million decrease in revenue for Canadian specialty and pay services by 2020, and estimates that the decreased revenues will contribute to the loss of some 15,000 direct and spin off full time jobs. The report in part contended that the great cable cut off is exaggerated, particularly since sports fans and news watchers continue to keep cable, and that radical alterations to the financial model were not necessary. In effect, the report contends that the convenience for consumers to pick their few favourite channels would lead to catastrophe for Canadian film and television workers. It is difficult to verify the claims made by the report, although it did succeed in getting some media attention.
Continue reading →