Podcast: Play in new window | Download
By Sean Graham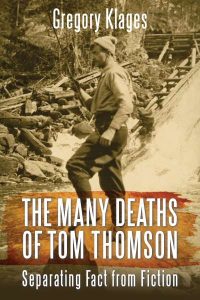 Conspiracy theories can be undeniably appealing and addictive to read. One of the reasons for this is that they are so hard to disprove. In fact, for the true conspiracy theory devotee, evidence that seemingly disproves the theory is turned around and used as part of the conspiracy. An internal CIA document confirming that Lee Harvey Oswald acted alone for instance, is then understood as evidence of how far up the conspiracy goes. That logic (or lack thereof) ensures that the conspiracy will live on for future sleuths.
At their best, conspiracy theories are harmless entertainment, but at their worst, they cause real damage. I would contend that the flat-earthers qualify as the former, with Pizzagate most definitely as the latter. And somewhere in the middle of those lies Tom Thomson, famed Canadian artist and member of the Group of Seven.
Given my interest in conspiracies and wild theories, I was excited to read Gregory Klages' new book The Many Deaths of Tom Thomson: Separating Fact from Fiction. Like many artists before him, Thomson was not a particularly well known figure during his life. In addition to painting, he held a series of jobs just to sustain himself. When his art did sell, it generally wasn't for large sums of money and Thomson toiled in virtual anonymity producing pieces that would later become some of the most celebrated art ever produced by a Canadian.
There is a certain cruelty to the fact that it wasn't until after he died that Thomson became a celebrated artist. Perhaps it's confirmation bias, but that seems to be a somewhat regular thing in the art world – in fact, second to having no talent, it's the main reason why I didn't pursue art. The part that's troubling isn't the anonymity during life, but the economics that goes along with it. Struggling to survive on your art while you're alive seems unfair when it is sold for hundreds of thousands of dollars when you're dead. But what happens if the manner in which you died contributed to the value of your art?