Active History is celebrating its tenth anniversary! As part of our anniversary celebrations we are sharing glimpses of how Active History developed and showcasing our favourite and most popular posts from the past ten years.
Today we are highlighting our most popular post from 2010, written by Karlee Sapoznik this post originally appeared on June 30, 2010. Want to know more about the second year of Active History? See our 2010 year in review post.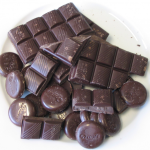 Whether it's a Mars, Cadbury, Hershey, Nestle or Snickers chocolate bar, most of us relish biting into one of life's most tasty, cheap indulgences: chocolate.
While the cocoa industry has profited from the use of forced labour in West Africa since the early nineteenth century, over the past decade more and more alarming reports of child slavery in the cocoa industry have come to the fore. Amadou, previously one of the over 200,000 estimated children to be enslaved in cocoa farms in the Ivory Coast alone, told Free the Slaves that "When people eat chocolate, they are eating my flesh."
The Ivory Coast produces roughly half of the world's cocoa today. In his recent documentary, entitled The Dark Side of Chocolate , Danish journalist Miki Mistrati seeks to answer the following question: "Is the chocolate we eat produced with the use of child labor and trafficked children?"
In effect, the question is really not whether the chocolate we eat is produced using child labour or trafficked children. Rather, it is twofold: where exactly is this happening and in what numbers? Further, how do we take further measures beyond what is already being done under the law, by the International Cocoa Initiative, the chocolate companies, local law enforcement, activists, the general public and grass roots organizations to truly end this?
The link between slavery and commodities is certainly not new. In the late eighteenth century, the British, like many other countries, directly profited from the slave trade and slavery as they took their tea or used slave-produced products on a daily basis. However, little by little, the London Society for Effecting the Abolition of the Slave Trade succeeded in rallying popular sentiment against slavery and slave-produced commodities. Continue reading →