Introduction by Nanci Langford with Sarah Carter. Theme week edited by Sarah Carter, Erika Dyck and Nanci Langford. 
                         "If I didn't do something, my spirit would die…"
Senator Thelma Chalifoux, 2006
This quote forms the title of Corinne George's study of the history of Indigenous women activists of Alberta that she drew on for her presentation at the October 2016 conference on the History of Women's Social and Political Activism in the Canadian West held at University of Alberta in Edmonton.[i] Corinne's paper had a focus on Cree Elder, activist and conference participant Lillian Shirt, and was the topic of an Active History post in December, 2016.[ii] The six articles in this series showcase some of the other papers presented at this conference.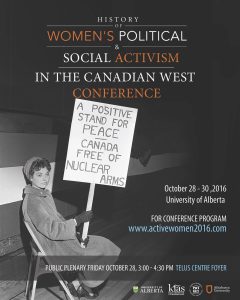 The centenary of the achievement of suffrage for (some) women in the prairie provinces prompted conference organizers Sarah Carter, Nanci Langford and Claire Thomson to provide a forum for recent research on prairie women's activism in the last century.[iii] In particular we wanted to feature new scholarship being undertaken in diverse communities that reflect the struggles women have been engaged in during the last fifty years.
Prairie women have always been involved in community development and lobbied for public measures that would improve the lives of women and children. The challenges and conditions of the settlement years in the west demanded action from women and men in both settler and Indigenous communities to build secure lives for themselves and their children, and that action started at their front doors and extended to communities, districts and to provincial politics. Moving beyond those years, women of all backgrounds and cultures were and continue to be engaged in political activities to address personal and community needs, to confront unfair practices or unsafe conditions, to change the political agenda, or to demand equity. To carry out these activities they spoke out individually or formed organizations and committees, joined political parties and ran for political office. Continue reading →