ActiveHistory.ca is on a three-week hiatus, but we'll be back with new content in next week. This week, we've asked the editors of Canada's First World War to select some of their most popular and favourite posts. 
This essay was originally posted on 11 November 2014
By Sarah Glassford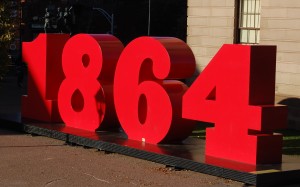 As I sat by the window of a popular coffee shop in downtown Charlottetown on a warm afternoon in September 2014, two student actors from the University of Prince Edward Island (UPEI) appeared on the street corner opposite, heading toward nearby Province House, seat of the provincial legislature.  He wore a three-piece suit and top hat; she sported a shirtwaist, hoop skirt, elaborate hat, and shawl.  This is a common sight near Province House during the summer tourist season,[i] but it struck me as noteworthy because I happened to be brainstorming thoughts for a post on Prince Edward Island (PEI) and the First World War centenary.  The sight of 1860s-style citizens promenading down the street in 2014 reminded me that all commemoration takes place in a crowded landscape of competing commemorations, even when the subject is as globally game-changing as the First World War.
PEI, Canada's smallest province, has been celebrating 2014 in grand style all year long, but not because of anything to do with the First World War centenary.  Instead, the island is celebrating the 150th anniversary of the 1864 Charlottetown Conference, when the then-colony of PEI hosted the first serious discussions of a confederation of British North American colonies – a union that eventually became the Dominion of Canada.  Continue reading →