By Karen Dearlove
It's a story that has grown far bigger than Brantford.  Articles in the Globe and Mail, the Toronto Star, the Hamilton Spectator, and the KW Record have drawn attention to what's happening in downtown Brantford.
It's a story about heritage buildings, those trying to save them, a city council, a university, and academics caught in the middle.  It's a story that raises questions about academics' responsibilities in the community, academic freedom and activism, and the universities they work for.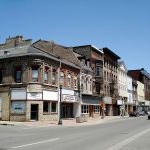 At risk are 41 buildings located along three blocks of Colborne Street, the main street of Brantford's downtown.  More than half of these buildings were constructed prior to 1867, and some claim this to be the largest stretch of pre-Confederation buildings left in Ontario.  It's true these buildings have seen better days, as with much of Brantford which has suffered hard since the closing of major industries in the 1980s.  But Brantford has experience a significant resurgence in the past decades, due in large part to the growing Laurier Brantford campus downtown.