By Aaron Boyes & Sean Graham
Every time you open a new tab you are bombarded with "Best [TV, sports, news, etc.] Moments of 2018!" At this time of year, it's unavoidable. While some lists are appropriate – such as the worst sports ?blunders of the year, or best dressed of the year – others require some more time to truly showcase significance. That's why we're back with the Sixth Annual (?) Year in Review (100 Years Later) Bracket.
We took what we consider the most significant events, births, and deaths of 1918 and used the advantage that hindsight provides to determine what was the most important a century ago. We divided the events into four categories – International, Mortality, Culture, and, of course, Potpourri – and then pitted the top 4 seeds against one another in a March Madness-style bracket. Note: the scores are arbitrary and totally made up. (Editor's note: this is fake news. It is a highly classified, proprietary algorithm that determines the scores)
As in year's past – which you can read here – we have omitted any event associated with the First World War. This is because our friends at Canada's First World War provide excellent insights into War, and events from the War would have dominated the Bracket. It is a safe bet to say that the Armistice at 11am on 11/11/1918 would be the most significant event had we not omitted the First World War.
Similarly, we have decided to eliminate from contention topics that have won in year's past so as to not have repeat winners. As an example, women's suffrage in Denmark won for 1915, so women winning the right to vote in subsequent years have not been included.
Whether you are a first timer or a returning reader, thank you very much for taking the time to check out our list. If you think we got something wrong, believe another event was overlooked, or if you disagree with our rationales, please let us know by posting a comment below or writing to us at: historyslam@activehistory.ca
First Round
International Bracket
(1) United States Passes Standard Time Act
v
(4) Nelson Mandela Born
Aaron: As Sean astutely argued in 2016, time is very much a human creation. Our planet spins on its axis as it revolves around the sun; but the measure of time it takes for one revolution – 23 hours, 56 minutes, 4.0916 seconds – is entirely a human creation. I will not delve into the philosophical debate about "what is time", but suffice to say time is useful, especially since it helps to regulate aspects of our lives. Greenwich Mean Time was established in 1675 to assist sailors in determining longitude at sea; the first standard time was introduced in Britain in 1847 for use on railroads. Here in North America, Canadian and American railroad companies instituted a standard time in 1883, which improved both communication and travel. However, not everyone got on board with these time zones. That's why in March 1918, the United States Congress passed the Standard Time Act, which implemented both Standard time and Daylight Saving Time across the nation. The act gave the Interstate Commerce Commission the responsibility of defining each time zone. The impact of standardizing time across the United States, as well as clearly defining time zones, has undoubtedly had significant positive impacts, especially with increased trans-continental communication and trade.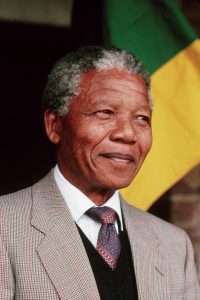 Few figures in the English-speaking world are as revered as Nelson Mandela. Born Rolihlahla Mandela, a Xhosa term that colloquially meant "troublemaker", he was given the English name "Nelson" by his schoolteacher. He reminisced in 1994, "Why this particular name, I have no idea." Mandela was the first in his family to attend school; he eventually studied law at the University of Fort Hare and the University of the Witwatersrand. While living in Johannesburg, Mandela became increasingly anti-colonial and an African nationalist. He joined the African national Congress (ANC) in 1943 – he eventually became its President in 1991. In 1948, South Africa's ruling National Party, which was all-white, established apartheid, the system of legal, racial segregation. Mandela and the ANC were committed to overthrowing the National Party, first non-violently, then using force. In 1961, he helped to create the Umkhonto we Sizwe, "Spear of the Nation", which led a sabotage campaign against the government. He was arrested and imprisoned in 1962 and sentenced to life in prison. Mandela served 27 years in prison before being released in 1990. Upon his release, he worked with then president F.W. de Klerk to end apartheid. In 1994, he was elected President of South Africa, the first black person to assume the office. After one term, he refocused his energies on the AIDS/HIV crisis in Africa. A controversial figure, both on the right and left, Mandela's life and his commitment to equality cannot be understated.