By Sarah Glassford
The following excerpt from Sarah Glassford, Mobilizing Mercy: A History of the Canadian Red Cross (Montreal & Kingston: McGill-Queen's University Press, 2017) is reproduced with the permission of McGill-Queen's University Press.
Introduction:
During the First World War, the Canadian Red Cross Society (CRCS) mobilized Canadians across the country in support of its humanitarian work for the benefit of sick, wounded, and captured Canadian, British, and allied servicemen. The hospitals, ambulances, sewn and knitted comforts, information bureau, POW food parcels, hospital visitors, and supplementary hospital supplies provided by the CRCS overseas relied on the voluntary labour and financial contributions of millions of Canadians at home (explored by Rebecca Beauseart here).  As the CRCS learned, it was no easy task to maintain this level of support over four long years, and persistent, damaging rumours and reports that donated comforts were being sold to soldiers (the sort of thing that would circulate as "fake news" on social media today) certainly did not help.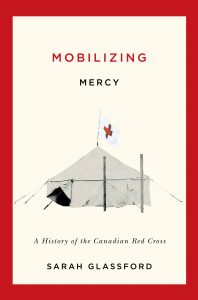 Excerpt: 
The positive overseas results of the [Canadian Red Cross] society's homefront work did not mean its war effort was free of challenges. Despite attempts to regulate women's work through a combination of patriotic appeals and scientific management, women retained ultimate control over their voluntary labour. National Headquarters intermittently received word of poorly attended meetings, a general lack of enthusiasm, or women who would not "settle down to work." crcs officials chastised women for failing their men and their country, while local branches strove to revive enthusiasm through efforts such as deliberately combining sewing and socializing into one evening program. Some volunteers responded to these tactics, but the fact remained that labour voluntarily given could always be voluntarily withdrawn.