By James Cullingham
This autumn marks a significant milestone in the history of filmmaking about Indigenous – settler relations in Canada. As Long As The Rivers Flow, the documentary series about Indigenous resilience that launched Tamarack Productions, was released in September 1991.
As Long As The Rivers Flow was among the first national collaborations of Indigenous and non-Indigenous documentarians in Canadian television history. It is a series of five one-hour documentary films. The films recount an epic story. The struggle of Indigenous peoples to assert control of their destiny in the place that came to be called Canada.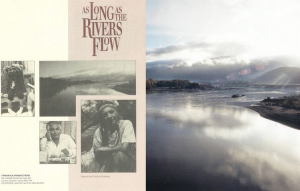 In September 1991 two documentaries in the series, one by the late Métis director Gil Cardinal and the other – her first film – by Métis filmmaker Loretta Sarah Todd, director of 2020's wonderful Monkey Beach drama, premiered at TIFF (then The Festival of Festivals.)
Following the world premieres of Tikinagan and The Learning Path, As Long as the Rivers Flow debuted on a consortium of provincial educational broadcasters led by TVO. The films were introduced by Cree and Métis actor and activist Tantoo Cardinal for the English broadcast premiere. The series was first broadcast en français in Canada and abroad that same year on TV5 as Tant que coulent les rivières. Eventually the series was versioned in Cree for broadcast and educational use in northern Ontario and Québec.
To celebrate the 30th anniversary of the series, and in the spirit of intercultural cooperation, respect and truth that the series represents, Tamarack Productions is proud to offer the films free of charge for the remainder of 2021 on its website in the interest of fostering reconciliation and collaboration among storytellers.
The films from the series have screened on five continents and won over twenty international awards. Continue reading →