By Adam Crymble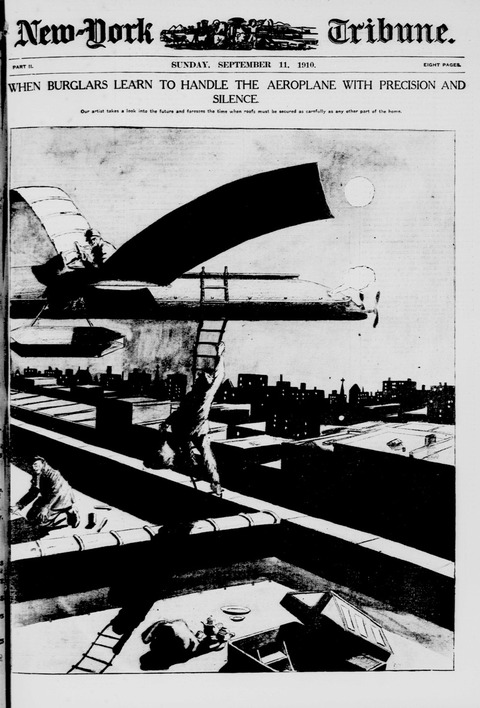 Ever since burglars learned to perform effective aerial assaults, society has been in a downward spiral (see photo). It's unsettling to know that someone can fly in, sneak down the chimney and make off with all your hard-earned space credits. Good thing at 122 years old, you're now considered middle aged and have some time to recoup your losses before retiring to the moon.
Historians often study what people in the past were like, but few stop to look at what they thought we'd be like. Stepping in to fill that role is St. Paul, Minnesota based writer, Matt Novak, who has kept a blog, Paleo-Future: a look into the future that never was since 2007.
With each entry, Novak guides readers onto a brief sojourn into the past where they can look forward at what our own society might have been. Inspired by a childhood trip to Disney's out-dated "Tomorrowland" exhibit, Paleo-Future uses copies of primary sources and brief commentary to engage readers, many of whom may have grown up during the 50s, 60s and 70s, when the majority of the predictions showcased on the blog were first made.
Perhaps unsurprisingly, Novak says his most popular posts are those that are "wildly inaccurate." This no doubt includes entries such as the 1949 article in the San Antonio Light newspaper, which predicted we'd soon see the city of New York entirely roofed over. The would-be development was touted as an ingenious way for scientists to provide "climate to order."
Even stranger is a 1960 Chicago Tribune prediction that forecast we would soon have "Man-made balls of fire" in the sky that provided 24-hour sunlight. Novak rightly placed this entry in the "why the hell would you do that?" file. Continue reading →