Sean Kheraj
Next month, I will start my first sabbatical. To prepare, I just finished reading Michael Harris's new book, Solitude: A Singular Life in a Crowded World. The book came out in late April just as my teaching semester wrapped up. The timing couldn't be better.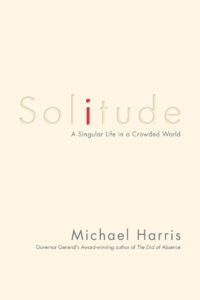 Sabbaticals are another part of the professional life of academics that are difficult to explain to friends and family who do not work in academia. So, you get paid not to work for an entire year? No. So, you just go away for a year and then come back? Not exactly. So, you've been fired? Uh…
As with much of the work life of an academic, sabbaticals are a tremendous privilege. They are also enormous opportunities and critical for sustaining scholarship and knowledge production. Ostensibly, they offer time to focus on research without simultaneously balancing teaching and administrative responsibilities. And as a result, they can be used as time to be alone.
As a historian interested in public engagement, particularly through online publishing (blogging, podcasting, social networking), the issue of time alone may be a challenge. Is there a place for solitude in active history? After reading Solitude, I'd say yes. Continue reading →