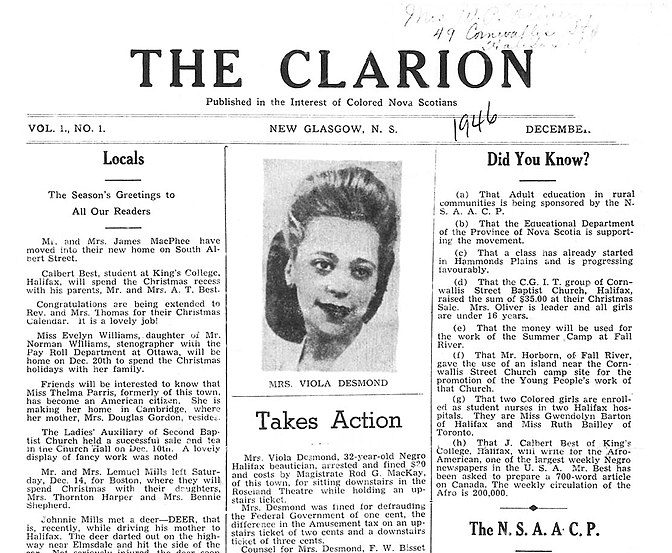 Jill Campbell-Miller
Racial profiling has lately been in the news in Nova Scotia. In September, Dr. Lynn Jones, a well-known champion of civil rights and a labour leader, was stopped by police while out with friends watching deer. Someone had called the police to report "suspicious people" in the neighbourhood. To add insult to injury, Jones was stopped in a historically black community in the town of Truro known as "The Marsh," the area in which she grew up. Following this experience, she put together a community meeting, leading town council to pass a motion that will work to improve relations between black residents and the municipal government.
Then, on October 21, the chief of the Halifax Regional Police announced that the force will formally apologize for the practice of "street checks," which has disproportionately affected black people in the city and its suburbs. This followed a provincial ban on the practice in April, which itself followed a report by University of Toronto criminology professor, Scott Wortley. His report found that black people were six times more likely to be stopped in the so-called "random" checks than white people in Halifax. That prompted an independent legal review, which found that the checks were illegal.
African Nova Scotians had been agitating for a ban for many months. Derico Symonds, who organized a march to support a ban in the spring, said to CBC News that it was not lost on him that it took two reports from two white men to finally get the practice banned: "And so that it took this amount of effort is absolutely disappointing. If folks don't get their driveway shovelled in Halifax it's an uproar and there's immediate action. But then when we have something such as this with a 180 page report that says that the practice is racist and we know that it is, it takes several efforts from several different people over several months to actually have the action that we were asking for." Symonds and other advocates, Trayvone Clayton, Shevy Price, and Kate Macdonald, had earlier walked away from a working group formed following the release of the Wortley report after it refused to consider an outright ban on checks. Unfortunately, activists complain that checks have continued even after the ban.
As Symonds expressed, a great deal of frustration permeated the discussion around this issue, even after this apparent win for civil rights. When the report was released, Robert Wright, chair of the African Nova Scotia Decade for African Descent Coalition's justice committee, The Coast said that he found it hard to hear about the supposed shock of leaders who expressed surprise at the findings of the Wortley report: "'How do you get to be the head of the police commission and be horrified by the stories people tell about their racist interactions with the police?' Wright asks. "Do you not know that people suffer daily indignity in their encounters with the police?'"­ These events, and the responses by activists to them, had me thinking about the nature of disbelief. Why do white people persist in disbelieving the experiences of racialized peoples in this province, or in Canada more generally?
It also made me think about the many consumer affairs stories that we hear, such as the work done by CBC's "Go Public" series. When people complain about cars with persistent dangerous mechanical failures, or bad service from airlines, the average person is automatically sympathetic. In general, we do not doubt these events have happened. This is because when many people, all with something obvious in common, report the same experience, those experiences become credible. Yet a similar automatic belief in experiences of racism does not seem to exist among white people. Why is this? Perhaps it is because when someone reports that they were lied to by telecom customer service agents, we (I'm now using "we" to identify white people) can assign blame to a greedy, faraway, corporate elite. But when someone details their life with racism while shopping for groceries, working as a bus driver, furniture salesperson, firefighter, janitor, or in their interactions with police, then the culprits become us, and our neighbours, friends, and relatives. It is deeply uncomfortable to admit that while only a minority of us are actual white supremacists, white supremacy lives in all of us.[1] It becomes easier to question and doubt. After all, haven't we all had a troublesome co-worker prone to lying and drama? What if the shopper did seem suspicious for credible reasons? Perhaps race had nothing to do with it, and how would we feel if we were being unfairly charged with racism? And suddenly, in our imaginations, we become the victims.
Yet as white people, we usually do not have to look very far to find our own culpability, or that of personal acquaintances. I was standing in line at the grocery store when I overheard the man behind me say to his friend, "well, some people might say that's racist, but just because it's racist, it doesn't mean it's not true," followed by laughter. I was about to turn around and counter that by definition if something is racist it cannot be true (thus cementing my status as the most popular person in the grocery store), when my husband, who had not heard the previous exchange, said, "oh, hi [name]!" It was a close relative. I shut my mouth.
Fortunately, historians are in a good position to counteract this epidemic of disbelief even if they do not personally study histories of race and racism. Continue reading →