By Rebekah Ludolph
"If the past 30 years have taught us anything, it is that there is a powerful, loud bunch of privileged white settlers who do not want to learn about us or from us…they are unaware and do not have to bother doing their research." – Kateri Akiwenzie-Damm (Anishinaabe)
Akiwenzie-Damm calls for settlers to self-educate. To do their research and acknowledge the information that is available to them because of the hard work of Indigenous writers and scholars.
As a settler graduate student attending lectures and leading tutorials I have worked primarily in thematic courses featuring one or two Indigenous literary works framed as texts to promote settler-student education about settler-colonialism in Canada. From this experience, I notice that class discussions often verge on what Eve Tuck (Unangax) calls "damage-centered research." Our curriculum "intends to document people's pain and brokenness in order to hold those in power accountable for their oppression" but, in the process, often "reinforces and reinscribes a one-dimensional notion of [Indigenous] people as depleted, ruined, and hopeless" (409).
This often happens inadvertently when classes overlook the important work Indigenous texts perform outside of settler education or when class is conducted under the assumption that it is only composed of settler students (whether Indigenous students choose to publicly identify themselves or not). While there are already many resources teachers can use to address this situation, the politics of settlers using Indigenous literatures for self-education warrants deeper investigation.
The publishing and reception history of Métis writer and community worker Maria Campbell's 1973 autobiography, Halfbreed, for example, points to the long-standing practice of positioning Indigenous texts as first-and-foremost tools for settler education. Maintaining this interpretive position, to the exclusion of other perspectives, continues to produce damage-centered readings of Indigenous texts.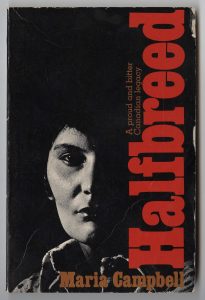 In this post, I want to try to explore different ways in which Settlers can approach this literature, its literary history, and the broader concerns raised with regard to education by the Truth and Reconciliation Commission. I will use Campbell's Halfbreed, a key work in Canadian and Indigenous literary history and thus a key point of interaction between settlers and Original Peoples, as a case study. Continue reading →