Everything is Connected: The Manitoulin Island Summer Historical Institute (MISHI) 2018 on Doodemag: Exploring Anishinaabe Worldviews Through Clans
By Carolyn Podruchny
Anishinaabe holistic pedagogy and academic interdisciplinarity make a good fit, as we learned during a seven-day summer institute (MISHI) focused on exploring Anishinaabe worldviews through the lens of clans and generations.
Co-sponsored by the Ojibwe Cultural Foundation (OCF), an organization devoted to Anishinaabe history and culture, and the History of Indigenous Peoples (HIP) Network, a research cluster embedded within the Robarts Centre for Canadian Studies at York University, and partnered with ActiveHistory.ca, MISHI brought together 32 established and emerging historians, graduate and undergraduate students, administrators, Elders, and knowledge-keepers to explore all things Anishinaabe through site visits, lectures, stories, and activities.
Situated in northern Lake Huron, Manitoulin is the largest fresh-water island in the world and has been home to Indigenous peoples for more than 12,000 years. Today it has six Anishinaabe communities, the residents of which share close relations with First Nations on the north shore of Lake Huron, including Whitefish River, Sagamok, and Serpent River.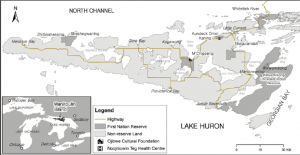 Knowledge-keeper Alan Corbiere and Elder Lewis Debassige (both from M'Chigeeng) were the main instructors of the Institute. Another 19 presenters included scholars, artists, and local knowledge-keepers with distinct views of land-based pedagogies, including story-telling, hiking, cooking, and creating art.
We began the institute on the land digging up naturally occurring clay to make pots and sculptures. We gathered at the Mutchmore Café to hear Anong Beam and Laurentian University Professor of Archaeology Alicia Hawkins speak about the ancient village site at Providence Bay, where many of the participants were staying. They focused on the long practice of pottery production at the site, which challenges the interpretation that Anishinaabeg did not have an ancient ceramic practice. Professor Hawkins led the group on a walk to view the ancient village site. Continue reading →