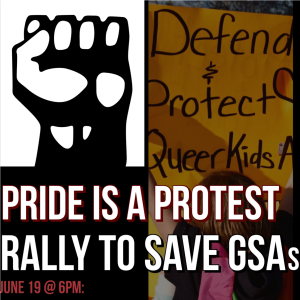 On May 21st, Alberta's United Conservative Party (UCP) government introduced Bill 8: The Education Amendment Act, which will remove protections introduced by the NDP government's Bill 24: An Act to support Gay Straight Alliances. Bill 8 removes provisions that had made it illegal for teachers to out students. Minister of Education Adriana LaGrange insists that existing privacy legislation will protect students. Bill 8 also removes the obligation for principals to immediately approve students' request to establish a GSA, as well as the safeguard affirming students' right to use "gay" or "queer" in the name of the organization.
Students, teachers, parents, queer activists, and allies have organized rallies and walkouts to protect GSAs since the UCP's first proposal to roll back Bill 24 protections. Yesterday's rally at the Alberta Legislature drew on the history of Pride as a political protest.
We first published this piece in 2 November 2017, the day Bill 24 was tabled, to provide the historical context about the ongoing debates in Alberta education policy about queer students' rights, parental authority, and religious rights.
---
Shawn W. Brackett and Nancy Janovicek
The Alberta government is engaged in a six-year comprehensive overhaul of the K-12 school curriculum, the first major reform in thirty years. In response to calls for consultation with stakeholders, the Council of Catholic School Superintendents of Alberta (CCSSA) has proposed an alternate sex education program that reflects Catholic teachings. Inclusion and diversity are core principles of education policy in Alberta, which now recognizes the need to protect the rights of students on the basis of gender expression, gender identity, and sexual orientation. Minister of Education David Eggen has rejected the CCSSA proposal, insisting that the government will not accept curriculum that is not inclusive of LGBTQ2S students.[i]
Critics of separate school boards have asked why public dollars are supporting schools that prioritize religious values over the obligation to defend the rights of all youth.[ii] In 1905, Alberta agreed to separate schools that would protect French-language rights because most Francophones sent their children to Catholic schools. Governments have funded separate schools under the agreement that they could include religious instruction, but that such material would be in addition to (but not in replacement of) a unified curriculum. In the current debate about protecting religious rights in the school system, social conservative groups have invoked parents' rights to push back against Gay Straight Alliances (GSAs) and inclusive lessons on human sexuality. Implicit in the demand by LGBTQ2S students for recognition of their identities is a call for Alberta Education to maintain its historical position in defence of minority rights more broadly.
Alberta Public and Separate School Boards: Historical Context
Schooling has always been an expression of community values and aspirations. The place of minority groups in a schooling process designed for majoritarian purposes has naturally come up for discussion and compromise throughout the history of the province. Continue reading →