Podcast: Play in new window | Download
By Sean Graham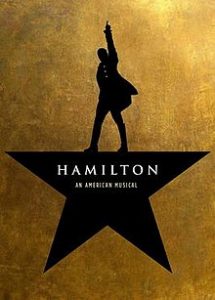 In August 2015, a new musical opened at the Richard Rogers Theater in New York. With music, lyrics, and book by Lin-Manuel Miranda, who had previously won a Tony for In the Heights, the show was an adaptation of Ron Chernow's 2004 biography of Alexander Hamilton.  Miranda had previewed some of the show, to laughter, at the White House in 2009, but when it opened on Broadway it became an international phenomenon. Even though it opened half way through the decade, it was the 4th highest grossing show of the 2010s in New York, a ranking which does not include its tours and run in the West End, San Francisco, and Chicago, where it was the city's most profitable musical run ever. From its diverse cast to the variety of musical styles within the show, Hamilton has transcended generations to become, in a way, the soundtrack of modern America. In the same way that West Side Story and Les Miserables became cultural icons beyond the theatre, Hamilton has resonated with audiences not only within the Broadway community, but also with those who had never before seen a musical.
I had the opportunity to see the show in New York a couple years ago. As many of my colleagues know, despite the fact that I spend a majority of my day listening to Broadway soundtracks, I have a firm policy of not listening to a show's music before seeing it on stage, so I went into the theatre expecting to see a great show without knowing too much about its style and structure. When I left the show and was asked what I thought, I said I it was good. Little did I know, that in the world of Hamilton fans, that counted as an insult.
While I loved the staging and choreography, the artistic licence taken with some of the story's factual elements left me a little confused. I had heard so much about how the show was a great way to bring people to history, but there were some immediate red flags. At the same time, I found the finale underwhelming and couldn't help but wonder if I was missing something. I was happy to learn that other historians have wrestled with similar questions and it occurred to me that the show presents a unique opportunity to discuss both the role of historical fiction in engaging people with the past and the role historians play in contextualizing the forms of popular culture.